Buddhist monasteries are usually found far from the hustle and bustle of cities and towns. Some of them are decidedly impenetrable, requiring more than a smidgeon of willpower to reach them. The goal is to prevent anyone but the most devout followers from entering these sacred sites, while simultaneously giving the monks the feeling of being closer to God in a peaceful and quiet environment.
1. Taung Kalat Monastery, Burma
The monastery of Taung Kalat is located in central Burma (Myanmar), about 50 kilometers southeast of Bagan, on top of a volcanic plug that rises 737 meters above the surrounding area, near the extinct volcano Mount Popa. The monastery is reached through 777 steps, and those that make it to the summit are rewarded with a breathtaking vista.
2. Taktsang Palphug Monastery, Bhutan
The Tiger's Nest aka Taktsang monastery is situated on a cliff around 900 meters above the Paro valley in Bhutan. The monastic structures are built into the rock face, which is incredibly steep – practically vertical.
Despite its intimidating appearance, the monastery complex is accessible from numerous directions, including a northwest path through the forest, a south trail utilized by devotees, and a north path. The monastery and its surroundings exude an eerie sense of isolation.
3. Sümela Monastery, Turkey
The Sumela Monastery is a Turkish monastery carved into the rocks of the Al tmdere Valley. It is a significant tourist feature of Al Tndere National Park, located at an altitude of around 1,200 meters.
Several times throughout its long history, the monastery has fallen into disrepair and has been repaired by various emperors.
It was left abandoned for decades before being partially renovated and reopened as a museum.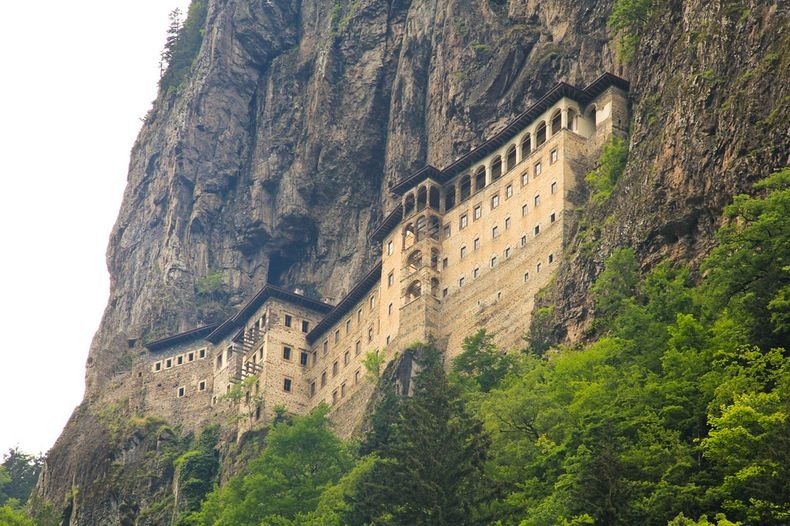 4. Hanging Monastery, China
The Hanging Monastery, also known as the Hanging Temple, is situated in a canyon at the foot of Mount Heng in Shanxi, China. The temple is erected into the side of a cliff about 75 meters above ground, and it is supported by secret rock corridors and wooden beams inserted into the mountain.
The temple was constructed to avert a devastating flood and to take advantage of the mountain's protection from rain, snow, and sunlight. It is now one of Datong's most popular tourist destinations and historical places.
5. Monasteries of Meteora, Greece
The Metéora is a complex of six Eastern Orthodox monasteries in Greece that is one of the largest and most important in the country. Built on natural sandstone rock pillars, the six monasteries are one of the most powerful examples of the architectural transformation of a site into a place of retreat, meditation, and prayer.
Access to the monasteries was initially and purposefully difficult, requiring either long ladders lashed together or large nets to haul goods and people up.