Shilpa Shetty Kundra is a social media sensation because of her yoga practices and home remedies. This time, she offered her CCF drink recipe, which is beneficial for digestion, period cramps, and other ailments. When it comes to home treatments, Shilpa Shetty Kundra is all in. From her skin to her gut, she always likes DIY recipes that are simple, effective, and have no adverse effects. What's the best part? She always shares her treatments on Instagram with her followers. This time, she addressed a topic that we all face: acidity and other gut-related concerns. The attractive lady gives a solution in the form of the "CCF" drink.
You're probably wondering what this abbreviation stands for. CCF is an abbreviation for Carom-Cumin-Fennel drink. Carom is essentially ajwain, which is wonderful for your stomach when you're feeling gassy. If you have stomach problems or wish to lose weight, cumin or jeera is an excellent choice. Jeera is believed to enhance digestion, which leads to improved metabolism. The true winner in this Shilpa Shetty-inspired drink is fennel or saunf. The anti-inflammatory benefits of fennel are well established. This also means that if you get period pains every month, this tea will help you deal with them.
Shilpa Shetty's CCF drink recipe is below.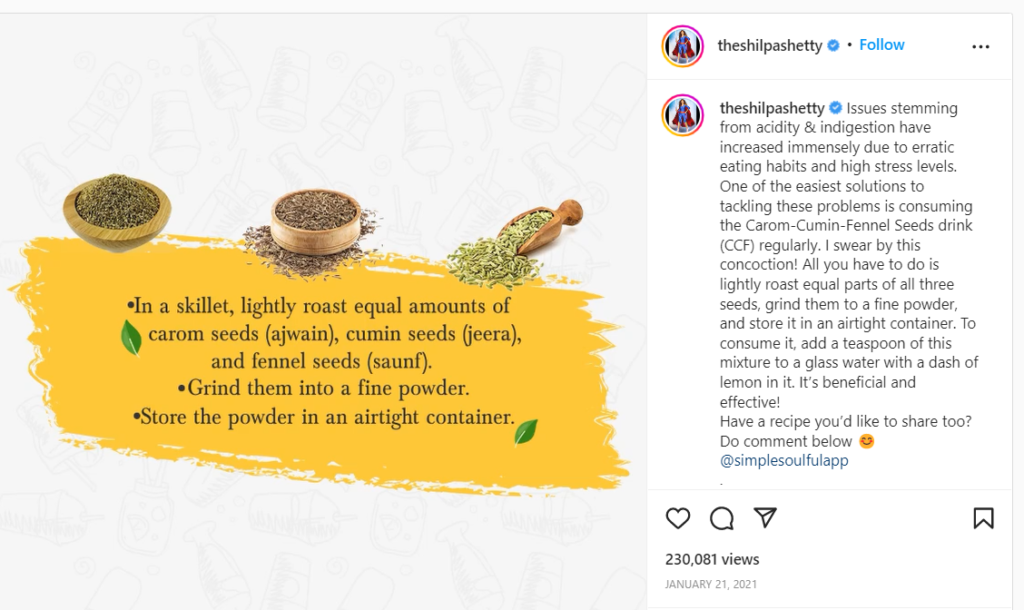 Shilpa claims that this CCF drink is the ultimate way to cleanse your intestines in her most recent Instagram picture.
She further claims that if you want to reap the benefits of this concoction, you should consume it on a daily basis.
So follow Shilpa's advice and drink this CCF drink first thing in the morning to avoid any gastrointestinal distress. Because having a healthy gut means having a healthy you!
Also Read: Magical Mantra To Deal With Changes In Your Life: Part 1